Co-ordinating a sale and purchase of a home can be difficult which is why some people decide to break the purchase/sale chain and store their belongings to keep things on track.  Alternatively, you may have building work about to commence so need to clear a space, or maybe you are just de-cluttering, we are able to offer storage for any size of consignment.  Long or short term storage, nothing is a problem.
We offer flexible storage at our on-site warehouse facility in Capel or we are able to offer containerised storage.
All items stored are inventoried and insured with our comprehensive cover.
Our storage rates are based on volumetric capacity and charged on a weekly basis.
Unfortunately, we are not able to offer self storage facilities.
Please note, we cannot accept in to storage any food stuffs or perishable items nor flammable liquids or gas cylinders.
Containerised storage
Removal storage containers are of a wooden construction with industry standard dimensions of 7ft high x 7ft long x 5ft wide.  These containers are transported in our specially constructed vehicles and then removed from the vehicle by fork lift truck and stacked in the warehouse.
Please be aware that once contents are put in to storage, there could be a handling charge for removing specific items before the whole consignment is delivered.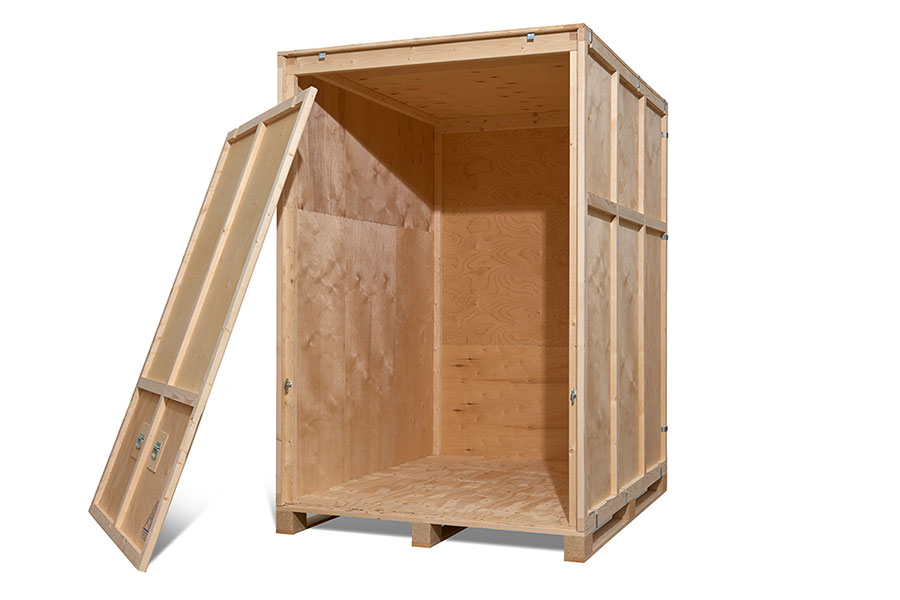 Testimonials from our happy customers
Nothing was too much trouble which made the whole move a lot less stressful for me (a female on her own). Sophie, my contact at Ede Bros, kept me in touch with everything regarding the move and couldn't have been more helpful. All in all a really good experience at a very stressful time.
Thank you again for the safe arrival and assembly of the furniture. [My wife] was delighted to come home and see it all in place and looking magnificent. Your lads were simply of the highest excellence as always.
This is the second time we have used Ede Brothers. Once again we are very happy with the service and level of attention throughout, which made our move go smoothly. We felt that the quotation for removal and packing was thorough and would involve no unexpected or unforseen extra surprises on the day, which there weren't. The team were very well prepared for loading and unloading, getting the transport into place at both ends with minimal fuss. Sophie in the office kept us updated between exchange and our move date, and was helpful in answering any questions and getting in contact. On the day, the team arrived when they said they would and quickly packed up whilst we cleaned as each room was cleared. All the team were courteous, professional and careful with our belongings. No breakages! The move went smoothly and was the least stressful part of the whole moving process. I have no hesitation in recommending the Ede Brothers team.
Sophie and Lee worked tirelessly to arrange and rearrange moving dates to fit in with the chain of people and solicitors involved.
Their team were magnificent and went above their job with never a moan and handled all my property with care and not one item was broken or mislaid. Apart from supplying tea and coffee I was happy to step back and leave it all to them.
Please pass on our huge thanks to the wonderful team.  It was a really great day with a great team and a pleasure to work with you all again.
Dealing with the Ede team for a second time was a complete delight. They were efficient, did exactly what they said they would do, and were a pleasure to work with as part of our move. Working across 3 days, the team packed, moved and then unpacked us into our new home. Nothing was broken, everything went where it needed to go, it was a brilliant service, brilliantly delivered.
If you are going to move you need to use Ede Brothers. They are amazing. They are so professional and make the move fun, removing any stress. If I ever move again I will be using Ede Brothers and no one else.

Ede Bros took care of everything so quickly it was unbelievable. [They] were friendly, flexible, hard working, efficient and a pleasure to work with – given we spent 2 days with them and had to manage our family around them they were great fun with the kids and managed to exceed our expectations on timeframes. On the day of the move they were upbeat, prepared, punctual and unpacked everything without any issues – listening to our changing decisions and providing reassurance and support for everything. We have spent a few weeks unpacking and found everything marked up, in a logical way, in the right rooms and brilliantly and caringly wrapped in tissue paper and boxes. We couldn't recommend Ede Bros enough and now know why we were recommended to use them! The team clearly had a mixture of long standing and strong relationships and younger team members who got along with each other which came across and made for an even better service. Thank you
Ede Brothers were absolutely fantastic, from our first discussions with Lee, through to when the very last box was unloaded into our new home.  The team were highly professional, careful to ensure everything was packed well, and happily took into account any specific needs we had with our belongings and the move.  Carrying out the packing and removals over three days really helped to make it a calm and (relatively!) less stressful process. We were so glad we chose them to manage the move and wouldn't hesitate to recommend them to anybody.
"Ede's were amazing! They were highly organised, professional, arrived on time, cheerful, polite, helpful and they never complained when I decided I wanted a piece of furniture in a different place or 2! On delivery to our new home, they worked incredibly hard to unload our belongings, after a long journey too. Thank you Ede's, you were brilliant. I would definitely recommend you."