Co-ordinating a sale and purchase of a home can be difficult which is why some people decide to break the purchase/sale chain and store their belongings to keep things on track.  Alternatively, you may have building work about to commence so need to clear a space, or maybe you are just de-cluttering, we are able to offer storage for any size of consignment.  Long or short term storage, nothing is a problem.
We offer flexible storage at our on-site warehouse facility in Capel or we are able to offer containerised storage.
All items stored are inventoried and insured with our comprehensive cover.
Our storage rates are based on volumetric capacity and charged on a weekly basis.
Unfortunately, we are not able to offer self storage facilities.
Please note, we cannot accept in to storage any food stuffs or perishable items nor flammable liquids or gas cylinders.
Containerised storage
Removal storage containers are of a wooden construction with industry standard dimensions of 7ft high x 7ft long x 5ft wide.  These containers are transported in our specially constructed vehicles and then removed from the vehicle by fork lift truck and stacked in the warehouse.
Please be aware that once contents are put in to storage, there could be a handling charge for removing specific items before the whole consignment is delivered.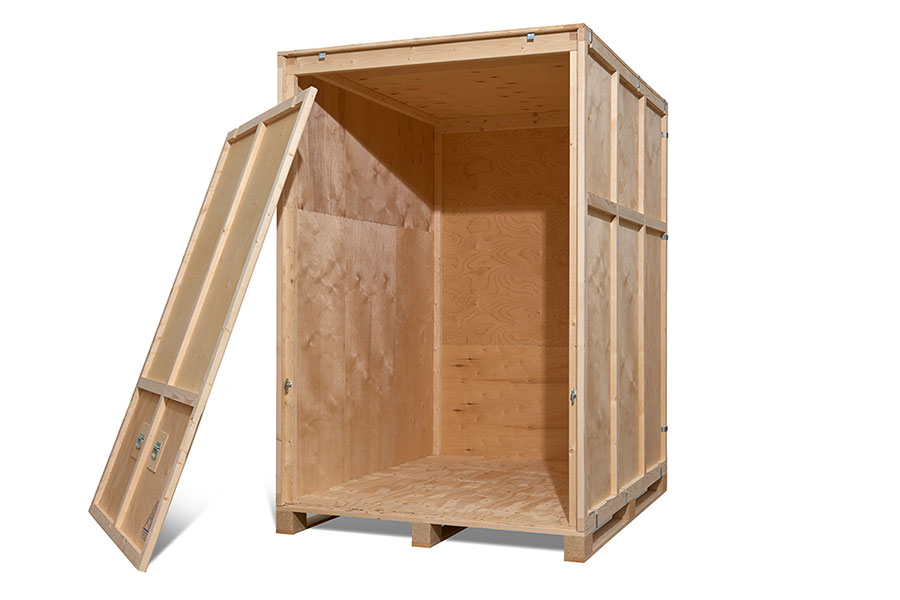 Testimonials from our happy customers
Ede's were so wonderful patient, kind and helpful.
All the guys were friendly and helpful and very easy to have around. A very efficient and friendly company. I would recommend them without reservation.
Ede's moved us from Surrey to Yorkshire. We had lived in our current house for almost 20 years so it was a big move and we were worried about the scale and the distance. From the first contact Ede's were brilliant – through estimation, administration, supplying packaging and helping us pack. They reassured us every step of the way and were incredibly professional in all aspects of the task. Every member of staff we encountered was unfailingly excellent. The oversight of the whole process by Lee and Sophie was the rock that held it all together. They went the extra mile for us in every way. Ede's made a very stressful process largely stress free! We unreservedly recommend this company.
Our experience with Ede Brothers was amazing, great service from start to finish, we were kept informed every step of the way and we knew what to expect on the day.  The day of our move our two lovely lads arrived on time and were very pleasant and nothing was too much trouble for them. It was an extremely hot day but they carried on cheerfully, the lorry was packed quickly and we were on our way. At our new address everything was taken to whatever room I wanted, they both worked extremely hard , we couldn't have wished for two nicer lads to move us. I would definitely use Ede Brothers again and would 100% recommend them. Price was very good considering the amount of work involved.  Thank you Ede Brothers.
Perfect service! Couldn't fault them! Would highly recommend and will definitely use Ede Bros again. Thanks guys
Amazing team, we wouldn't have made our moving date without them. Hard working, polite and respectful of your property. Can't recommend them enough. Thank you
What a pleasure dealing with Ede Bros from beginning to end!
Nothing was too much trouble from both the support office and the chaps on site and everything went exactly to plan. Took the stress completely out of the move.
Ede Bros have a brilliant team! They were great at ensuring everything was packed really well. The team were not only considerate but also checked what might be needed ahead of packing.
The day of the move was equally as perfect, and worked so hard at getting everything in the right place. Fantastic!
We cannot fault the Ede Bros removal team who made sure everything went as smoothly and efficiently as possible. They were not at all phased by a difficult manoeuvre that was required for a large item of furniture. We could rest assured that all was in safe and capable hands making the whole process stress free. We would highly recommend Ede Bros without a doubt.
I found the whole team really friendly and helpful. From the initial quote with the ladies on the phone, who were more than happy to answer all my queries regarding the move.  To move day itself when James and Joe were really efficient and friendly and constantly checking where I needed things to be, made the day go smoothly and easy.  Highly recommend the company.